YGGDRASH, the Only Korean-Based Blockchain Project to Be Listed in 'CodeCoinCap' Top 100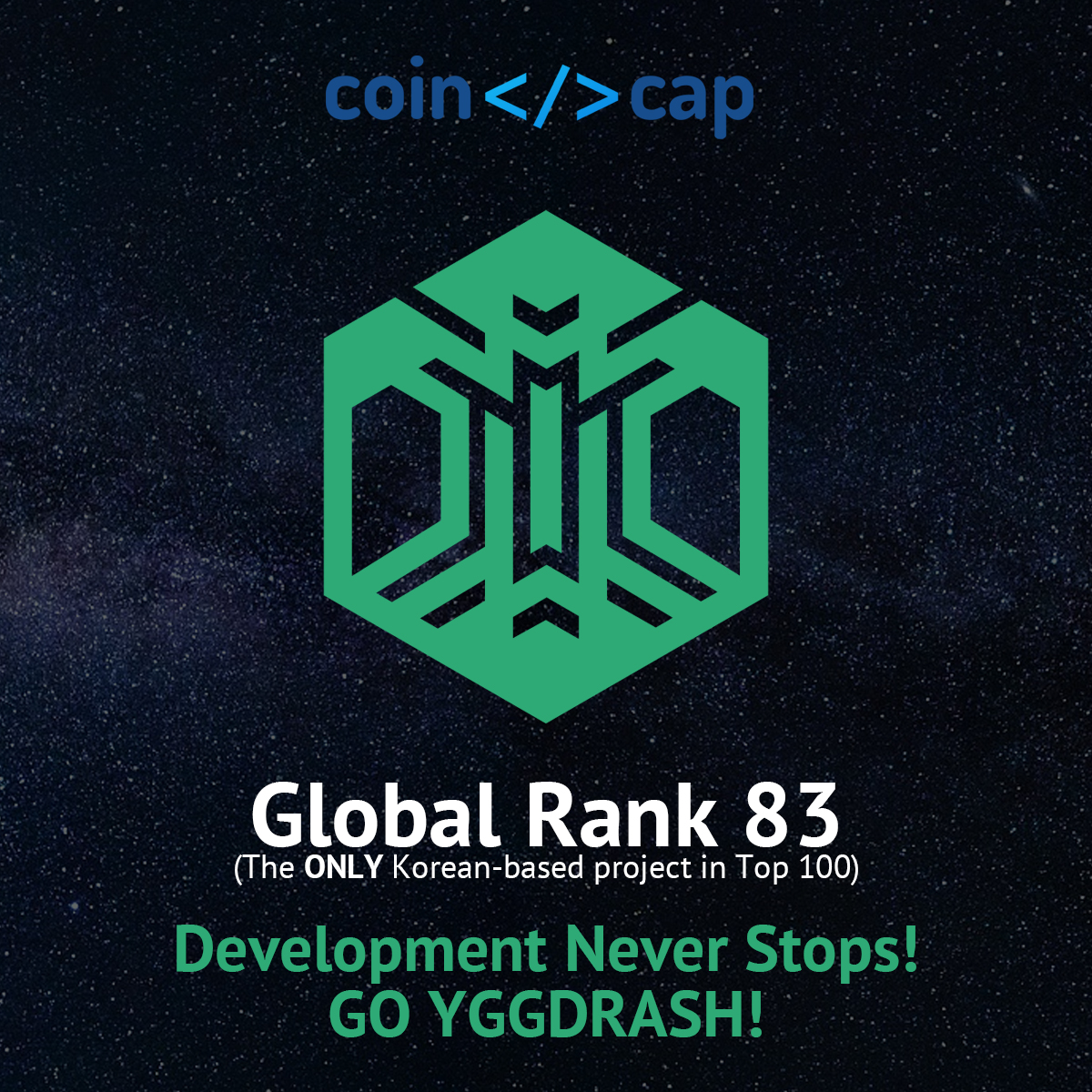 – CodeCoinCap is a ranking site of cryptocurrencies based on their development progress status – YGGDRASH was the only Korean-based blockchain project which was ranked at 83rd place – YGGDRASH mainnet is to be released in 2019 Q3
Press Release – updated: Jan 15, 2019 00:08 KST
SINGAPORE, January 15, 2019 (Newswire.com) – The next generation multi-dimensional blockchain platform 'YGGDRASH' was the only Korean-based project to rank within the Top 100 on cryptocurrency ranking site 'CoinCodeCap.com' and has proven its aspect as one of the top developer-centric Korean projects.
CoinCodeCap is a cryptocurrency ranking site where it tracks the development progress of global projects by gathering the data from a famous development community 'GitHub'.
In this era of blockchain flood, CoinCodeCap provides critical information to investors globally who are considering value investing and interested in long-term investment to projects with future potentials. Considering the fact that even the Bitcoin, the world's most-traded coin on daily basis, has been ranked only 52nd place in CoinCodeCap, the significance of this website cannot be overlooked.
'YGGDRASH', a multi-dimensional blockchain platform currently under development by R2V Inc. (CEO David Seo), has proven its high development performance by being the only Korean-based global project to be ranked in 83rd place (overall), 61st place (last 12 months), and 35th place (last 6 months).
YGGDRASH is a new form of blockchain platform designed and planned for realization of multichain; aimed for being the first blockchain platform that connects many blockchains on one network by solving current blockchain like Ethereum's flaws. YGGDRASH mainnet is scheduled to be released in 2019 Q3.
In this year, YGGDRASH plans to create synergy like never before, through collaborations with "Incubation Center" and "DEXRADE".
R2V's "Incubation Center" was recently established for DApp ecosystem development, and R2V's highly anticipated cryptocurrency exchange "DEXRADE" will be released within 2019 Q1.
For more info, contact: info@yggdrash.io
Source: AKASHIC FOUNDATION
Like what you read? Give us one like or share it to your friends
original post…