World's Hottest Bats to Accept Payments in Bitcoin Diamond (BCD) and Six Other Cryptocurrencies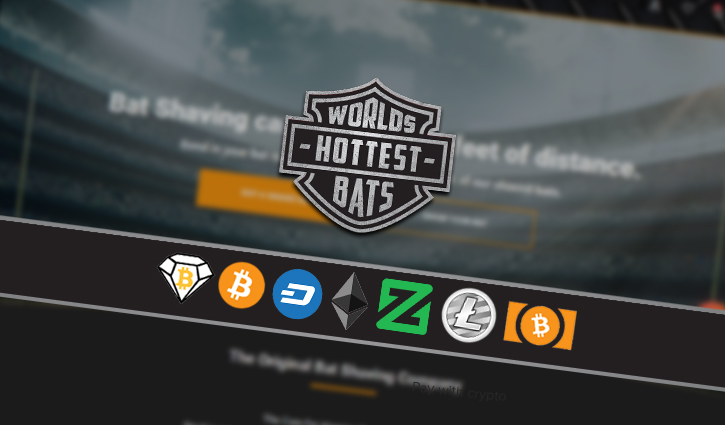 Press Release – updated: Jan 8, 2019
GILBERT, Ariz., January 8, 2019 (Newswire.com) – World's Hottest Bats customers can now use digital currency to purchase bat shaving and customization services, as the company has partnered with e-commerce platform Shopping Cart Elite to accept payments in seven leading cryptocurrencies. World's Hottest Bats is known for its advanced expertise in baseball and softball bat shaving, a process to thin out the material inside of a bat barrel to help players get greater hit distance out of their swings. By now accepting Bitcoin Diamond (BCD), Bitcoin Cash (BCH), Bitcoin (BTC), Dash (DASH), Ethereum (ETH), Litecoin (LTC) and Zcoin (XZC), World's Hottest Bats is giving customers around the world access to state-of-the-art bat shaving.
Coming from humble beginnings in a home garage in Gilbert, Arizona, World's Hottest Bats has since worked on nearly 100,000 bats. By working with a wide variety of materials and constructions, World's Hottest Bats has refined its bat shaving process to craft a perfect balance of performance and durability for every bat.
Over the past few years, cryptocurrency has emerged as the next evolution of currency, thanks to its convenience, cost-effectiveness and decentralization. It matches the functionality of traditional fiat currency and goes beyond in efficiency, accessibility and security. In 2009, the first cryptocurrency, Bitcoin, was created and hundreds of other digital currencies have since emerged. By December 2017, the market capitalization of all cryptocurrencies reached a staggering $600 billion.
With the option to pay with cryptocurrency, customers around the world will now have unprecedented access to premium bat shaving with lightning-fast transactions that take just minutes to process. Furthermore, thanks to drastically reduced transaction fees (amounting to less than a penny), eliminated currency conversion fees and freedom from chargebacks, World's Hottest Bats is able to pass on even more savings to customers.
About World's Hottest Bats
We believe there is one thing that truly sets us apart from all the other bat shaving companies: experience. Since our humble beginning many years ago in our garage in Gilbert, Arizona, we've worked on nearly 100,000 bats. We've seen every kind of cap, endload material, single wall composite weave construction, double wall composite weave (sleeved construction), metal/alloy construction and internal governor ring. Every bat is different and it takes years of experience and thousands of bats to discern the perfect balance between performance and durability. At World's Hottest Bats, we have the expertise our customers need to get the most out of their bat.
About Shopping Cart Elite
Shopping Cart Elite is an enterprise e-commerce platform that provides businesses with various automation tools to run more efficiently. The company prides itself in being a one-stop shop that does not require third-party applications in order to have marketing and SEO tools for business.
Recently, Shopping Cart Elite has developed an advanced e-commerce platform designed specifically for cryptocurrency. This platform has already served as the basis for BCD Bazaar and has been adopted by several merchants, including Marks Jewelers, Mahone's Wallpaper Shop, NewParts and more.
Source: World's Hottest Bats
Like what you read? Give us one like or share it to your friends
original post…