Warning! Only trust your money to regulated brokers!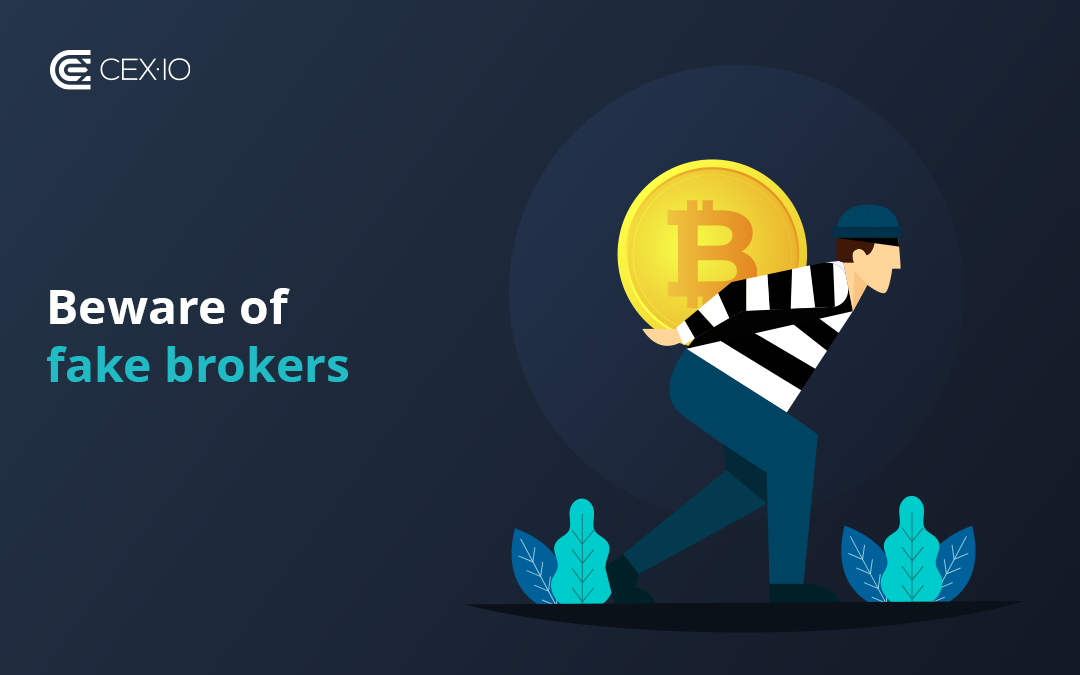 This post is part of our educational activities aimed at helping you identify and protect yourself from fraudulent schemes involving cryptocurrency. You'll learn about the nature of investment scams and get recommendations for dealing with them.
At CEX.IO, we are committed to protecting our customers from scammers and fake brokers. We do not condone fraudulent activities and maintain enhanced security measures to identify and prevent fraud. However, you, our customers, remain solely responsible for securing access to your own accounts. In other words, if a scammer convinces a CEX.IO customer to voluntarily transfer funds towards an investment proposal that turns out to be a scam, we are unable to prevent the customer from transferring those funds or to reverse that action after the fact.
How investment scams work
Investment fraud is one of the most popular financial crimes today. As cryptocurrencies have moved into the mainstream, it has become extremely easy for fraudsters to pose as investment managers and target consumers with scams. Fraudsters create attractive offers that are too good to be true, often using images of luxury items or fake celebrity endorsements. Usually, people are offered to invest money in something that is alleged to guarantee a profit (i.e. "get rich quick").
Schemes involving crypto assets work as follows:
An unlicensed broker offers a customer to invest in some asset(s) to get a profit.
To enable the customer to invest, the broker guides the customer through registration and verification on a crypto exchange.
The customer deposits fiat money and purchases cryptocurrency.
The broker asks the customer to send the cryptocurrency to some address.
In the end, the money appears in the broker's wallet and the victim has no funds. Moreover, crypto transactions are irreversible, so it's not possible for the victim to request a refund or a chargeback.
As a rule, such brokers disappear without any contact. Some fake brokers mislead investors by making them believe their first investment has successfully made a profit. However, they soon start asking for additional funds to withdraw the "profits," the returns stop, and the scammer vanishes.
How to protect yourself from crypto scams
Slow down. Scammers are almost always in a hurry. Whether you're scrolling the web, answering a cold call, or receiving an unsolicited request from someone on social media, make sure to stay cool and rational. Take some time to think it over.
Don't fall for attractive offers. Professional-looking and attractive ads, Facebook posts, and websites don't necessarily mean a legitimate investment tool. We strongly recommend avoiding investment offers that seem too good to be true. If it seems too good to be true, it probably is.
Double-check information. If you're considering investing, thoroughly research trading venues and brokers. You can google a company's name — or even a phone number — to check if others have reported a person or organization as a scam. Definitely try to obtain references and recommendations from people you trust. Make sure to check that a broker is really authorized to provide financial services.
Don't pay in advance. If someone promises you gains or tells you you've won something but requests a payment of fees or taxes beforehand, most likely it's a scam. They may take your money and disappear.
Don't send cryptocurrency to unknown addresses. Crypto transactions are irreversible in their nature, so think twice before transferring funds anywhere. If you have any suspicions, don't pay. Once you send the money, you won't be able to request a refund or a chargeback.
Use only official CEX.IO channels to communicate and obtain information
As we care about the safety of your funds and information, we would like to remind you about our official communication channels and how we work. You can fully trust the information provided via the channels listed below. Still, note that even a single letter in a URL can be all that distinguishes an official source from a scam. So we encourage you to be very attentive.
We also send newsletters to inform you about important changes. Emails sent from CEX.IO always come from an email address ending with @cex.io and never include attachments. If you receive an email from an email address with any domain name other than @cex.io, please contact our support to clarify the situation. Should you have any doubts about communications purporting to be from CEX.IO, you can always contact us to double-check if the message is legitimate.
CEX.IO Customer Support Team principles
Last year, we started offering phone support for our registered users. You can easily find our phone number after you log in to your CEX.IO account. If someone tells you another CEX.IO support phone number, do not trust them.
Read through the rules we follow so you can identify CEX.IO-related scams.
The CEX.IO Customer Support Team solves customers' issues for free. If someone claims to work for CEX.IO and offers to help you for money, do not tell them anything about your account and do not pay them.
CEX.IO doesn't offer accelerated support or let users pay to jump the line.
The CEX.IO Customer Support Team will never ask for your passwords or CVC codes. If someone claiming to be from CEX.IO tries to get such information, do not give it to them.
Always remember that you can easily contact the CEX.IO Customer Support Team via the form on our Help Centre or by phone. Our agents will do their best to answer your questions in the shortest time.
After reading this post, we recommend getting acquainted with our recent guide on how to avoid scams in Telegram crypto communities.
Like what you read? Give us one like or share it to your friends
original post…