Vito's Performance to Accept Crypto Payments Including Bitcoin Diamond (BCD)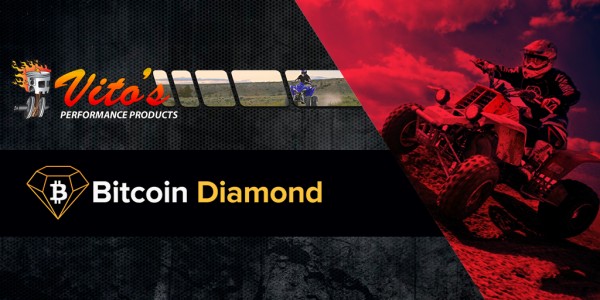 Press Release – updated: May 13, 2019 10:00 EDT
RAY, Mich., May 13, 2019 (Newswire.com) – ​​​​​Vito's Performance – one of Motor City ATV's exclusive brands specializing in all-terrain vehicle parts – has announced its adoption of payments in Bitcoin Diamond (BCD) and six other cryptocurrencies. This new offering will be powered by the Chimpion e-commerce platform, which enables merchants and consumers to accept cryptocurrency payments quickly and conveniently.
Vito's Performance aims to provide customers with high quality products and efficient service. The brand offers an impressive array of products, including parts for motorcycles, snowmobiles, golf carts, and ATVs. With the acceptance of cryptocurrencies such as Bitcoin Diamond (BCD), Bitcoin Cash (BCH), Bitcoin (BTC), Dash, Ethereum (ETH), Litecoin (LTC), and Zcoin (XZC), Vito's Performance now welcomes customers worldwide to its online store.
"Over the past few years, we've seen many other automotive brands adopt cryptocurrency," said owner Ray Vansteenkiste. "To reach new customers and serve our current ones even better, we have decided to join the Chimpion network. With this new alternative payment method, our products are now far more accessible to ATV riders anywhere in the world."
Cryptocurrency payments provide higher efficiency for both the merchants and customers. With cryptocurrency, transactions can be verified in a matter of seconds at just a fraction of the transaction fees charged by credit card processors. They also protect merchants from costly chargebacks and increase accessibility for digital currency-holding shoppers.
Over the past several years, cryptocurrency has emerged as the next evolution of currency, thanks to its convenience, cost-effectiveness and decentralization. Designed as a means of transaction as peer-to-peer electronic cash, it matches the functionality of traditional fiat currency and goes beyond in efficiency, accessibility and security. Bitcoin launched in 2009 as the first cryptocurrency, and hundreds of others have since followed.
About Vito's Performance
Vito's Performance is an exclusive brand under the company Motor City ATV. The brand specializes in all-terrain vehicle parts and has an extensive inventory that includes virtually every single Yamaha Banshee part. The brand takes pride in its broad product selection and efficient shipping practices which will enable it to continue providing excellent service to the ATV industry.
About Chimpion
Chimpion is a cryptocurrency e-commerce platform that enables any merchant to begin accepting cryptocurrency payments online. By holding Chimpion Token (BNANA), merchants can gain access to Chimpion's robust crypto e-commerce platform for free, without needing to pay a monthly subscription fee. Chimpion was developed using technology from Shopping Cart Elite and Bitcoin Diamond (BCD) and combines comprehensive e-commerce features with convenient payment processing.
Chimpion's primary goal is to drive the adoption of cryptocurrency as a payment solution by operating a rich e-commerce platform centered around digital assets. New startups and established merchants alike can become part of Chimpion's vast network to take advantage of its fast and affordable transactions and user-friendly infrastructure.
About Bitcoin Diamond (BCD)
Bitcoin Diamond is a Bitcoin fork that was created to solve the slow transaction confirmations and high threshold requirements of Bitcoin. Through BCD Pay, business owners are able to offer their products to a global market without needing to absorb expensive fees from international payments or worry about costly chargebacks from indecisive or fraudulent customers.
Earlier this year, BCD debuted BCD Bazaar, an international marketplace that gives customers access to a wide range of products from across the world by accepting payments in Bitcoin Diamond (BCD) or Bitcoin (BTC).
Source: Vito's Performance
Like what you read? Give us one like or share it to your friends
original post…
Announcing CryptoSlate Research, an exclusive newsletter delivering thoroughly researched analysis and crypto market insight
Since 2017, CryptoSlate's mission has been to provide high quality and objective analysis of the blockchain and cryptocurrency market. CryptoSlate has achieved this by becoming a key community resource for important news, comprehensive analysis, and relevant data under one streamlined platform.
Over the past year and a half, CryptoSlate has published over 2,300 news articles and maintained growing databases of 2,100+ cryptocurrencies, 100+ companies, 100+ products, and 26 places. In providing these services, CryptoSlate has built a talented and proficient team of journalists, software developers, and analysts who are constantly acquiring knowledge about the often complex world of crypto.
Announcing CryptoSlate Research, our exclusive newsletter
To take advantage of the expansive CryptoSlate knowledgebase, and as part of our initiative to keep the community enlightened, we are expanding our long-form analysis through CryptoSlate Research—a premium newsletter containing curated, thoroughly researched exclusives and fascinating interviews with industry leaders.
These articles are only available to CryptoSlate Research subscribers and are not published anywhere else. Additionally, subscribers will gain access to our private Slack and be able to engage with CryptoSlate Researchers and vote on and suggest potential research topics.
Learn more or join CryptoSlate Research
Why subscribe to CryptoSlate Research?
Stay up-to-date
Keeping up and staying well-informed about crypto is a challenge. The pace of change and the infinite number of domains involved means there is an overwhelming amount of quantitative and qualitative material to absorb.
CryptoSlate Research makes understanding crypto possible by interpreting emerging software breakthroughs, dissecting new regulations, getting the scoop on worldwide adoption stories, and distilling the most valuable information to keep subscribers abreast.
Fact-based conviction
The discourse around blockchain is brimming with discord and rife with conflicts of interest–making it difficult to obtain reliable, unbiased, and relevant information.
Instead, CryptoSlate leverages data-driven analysis to make intelligent decisions about crypto's potential and growth. CryptoSlate Research helps to separate fact from FUD using raw blockchain data, the latest academic research, and guidance from experts in the field.
Additionally, CryptoSlate is an independent organization–not owned or invested in by any other entity in the blockchain space. CryptoSlate values editorial independence and always seeks to be completely transparent with our readers.
Informational edge
The cryptocurrency markets are volatile, prone to manipulation, and largely unregulated. Consequently, most investors are at a clear disadvantage.
CryptoSlate Research empowers readers to stay on top. Get the story behind major price movements, take a look at the fundamentals behind major projects, and learn what strategies professional traders are implementing through regular technical analysis.
What motivates us
When CryptoSlate launched in December 2017, the market was rife with scams and flimsy ICOs—and filled with an array of self-proclaimed advisors, hucksters, and charlatans.
Meanwhile, crypto journalism at the time also left a lot to be desired. Many publications were staffed by writers who knew little about crypto and were focused on churning out sensationalist headlines to amass clicks and make money from predatory crypto-advertising.
Moreover, many of these publications did not have the best interest of their readers in mind and were participating in undisclosed pay-to-play publishing schemes and promoting illegitimate projects.
CryptoSlate has never been involved with hidden pay-to-play advertising and has always been committed to the utmost transparency in our reporting.
CryptoSlate was founded by two, Seattle-based, crypto-savvy software professionals who saw the potential of crypto and the necessity for innovation in its corresponding media delivery. Reliable reports with genuine insight into the industry were rare—but CryptoSlate is changing that.
We invite you to join us in our mission and sign-up for CryptoSlate Research.
Our goal is to give you an informational edge at an affordable price. For just over $1 per day, you will have access to all previous and current CryptoSlate Research content and as mentioned, the benefit of interacting directly with our team in our private Slack channel.
To learn more, including sample research articles and background on our researchers, click here.
Filed Under: Seattle, Announcement
Like what you read? Give us one like or share it to your friends
original post…