Vito's Performance to Accept Crypto Payments Including Bitcoin Diamond (BCD)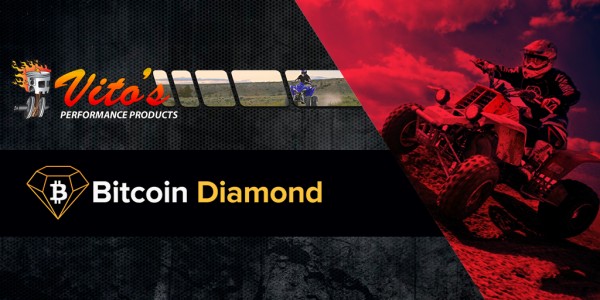 Press Release – updated: May 13, 2019 10:00 EDT
RAY, Mich., May 13, 2019 (Newswire.com) – ​​​​​Vito's Performance – one of Motor City ATV's exclusive brands specializing in all-terrain vehicle parts – has announced its adoption of payments in Bitcoin Diamond (BCD) and six other cryptocurrencies. This new offering will be powered by the Chimpion e-commerce platform, which enables merchants and consumers to accept cryptocurrency payments quickly and conveniently.
Vito's Performance aims to provide customers with high quality products and efficient service. The brand offers an impressive array of products, including parts for motorcycles, snowmobiles, golf carts, and ATVs. With the acceptance of cryptocurrencies such as Bitcoin Diamond (BCD), Bitcoin Cash (BCH), Bitcoin (BTC), Dash, Ethereum (ETH), Litecoin (LTC), and Zcoin (XZC), Vito's Performance now welcomes customers worldwide to its online store.
"Over the past few years, we've seen many other automotive brands adopt cryptocurrency," said owner Ray Vansteenkiste. "To reach new customers and serve our current ones even better, we have decided to join the Chimpion network. With this new alternative payment method, our products are now far more accessible to ATV riders anywhere in the world."
Cryptocurrency payments provide higher efficiency for both the merchants and customers. With cryptocurrency, transactions can be verified in a matter of seconds at just a fraction of the transaction fees charged by credit card processors. They also protect merchants from costly chargebacks and increase accessibility for digital currency-holding shoppers.
Over the past several years, cryptocurrency has emerged as the next evolution of currency, thanks to its convenience, cost-effectiveness and decentralization. Designed as a means of transaction as peer-to-peer electronic cash, it matches the functionality of traditional fiat currency and goes beyond in efficiency, accessibility and security. Bitcoin launched in 2009 as the first cryptocurrency, and hundreds of others have since followed.
About Vito's Performance
Vito's Performance is an exclusive brand under the company Motor City ATV. The brand specializes in all-terrain vehicle parts and has an extensive inventory that includes virtually every single Yamaha Banshee part. The brand takes pride in its broad product selection and efficient shipping practices which will enable it to continue providing excellent service to the ATV industry.
About Chimpion
Chimpion is a cryptocurrency e-commerce platform that enables any merchant to begin accepting cryptocurrency payments online. By holding Chimpion Token (BNANA), merchants can gain access to Chimpion's robust crypto e-commerce platform for free, without needing to pay a monthly subscription fee. Chimpion was developed using technology from Shopping Cart Elite and Bitcoin Diamond (BCD) and combines comprehensive e-commerce features with convenient payment processing.
Chimpion's primary goal is to drive the adoption of cryptocurrency as a payment solution by operating a rich e-commerce platform centered around digital assets. New startups and established merchants alike can become part of Chimpion's vast network to take advantage of its fast and affordable transactions and user-friendly infrastructure.
About Bitcoin Diamond (BCD)
Bitcoin Diamond is a Bitcoin fork that was created to solve the slow transaction confirmations and high threshold requirements of Bitcoin. Through BCD Pay, business owners are able to offer their products to a global market without needing to absorb expensive fees from international payments or worry about costly chargebacks from indecisive or fraudulent customers.
Earlier this year, BCD debuted BCD Bazaar, an international marketplace that gives customers access to a wide range of products from across the world by accepting payments in Bitcoin Diamond (BCD) or Bitcoin (BTC).
Source: Vito's Performance
Like what you read? Give us one like or share it to your friends
original post…
NEO Price Prediction: Long-term (NEO) Value Forecast – June 2
The long-term outlook is in a bullish trend.
The 1.618 in the fibs at $19.17 is the bulls target in the long-term.
NEO/USD Long-term Trend: Bullish
Supply zone: $20.00, $30.00, $40.00
Demand zone: $2.00, $1.00, $0.50
NEO continues in the uptrend in its long-term outlook. The strong pressure on the cryptocurrency by the bulls' comeback at the 61.8 on 18th May has kept price up with new high each week. $12.59 and $15.04 in the supply area were the highs on 20th and 30th May respectively.
The new week is started on a bullish note with today's opening candle at $13.72 higher than last week opening price at $11.45, an indication that the bulls are more in the market.
Price is above the two EMAs that are fanned apart which suggest strength in the trend and in this case the uptrend.
The journey to 1.618 of the fib extension with price at $19.17 in the supply area is the bulls target in the long-term as the bullish momentum increase and more bullish candle open and closed above the two EMAS.
The views and opinion as expressed here do not reflect that of BitcoinExchangeGuide.com and do not constitute financial advice. Always do your own research.
Like what you read? Give us one like or share it to your friends
original post…