Startup Genome and Global Entrepreneurship Network Launch 2019 Global Startup Ecosystem Report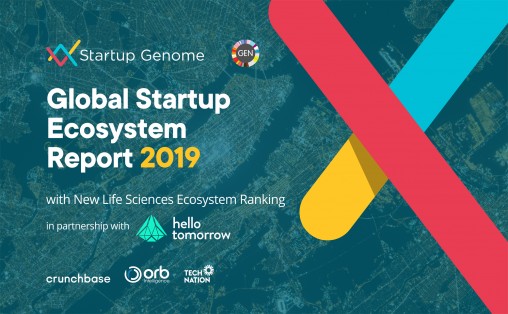 Global rankings and analysis of startup trends among the insights in world's most comprehensive report on startup ecosystems.
Press Release – updated: May 9, 2019
SAN FRANCISCO, May 9, 2019 (Newswire.com) – ​​​​​​​Startup Genome's highly anticipated 2019 Global Startup Ecosystem Report (GSER) has launched today at The Next Web Conference. The report (#GSER2019), from Startup Genome and the Global Entrepreneurship Network (GEN), is the world's most comprehensive and widely-read research on startup ecosystems, and offers the very first global ranking of Life Sciences ecosystems, in partnership with Hello Tomorrow. Its findings are based on data from thousands of startup founders and research on over a million companies.
An ongoing effort since 2012, the GSER is the product of a global alliance of over 300 partner organizations working together to understand success factors for startups, scaleups, and startup ecosystems everywhere.
This year, #GSER2019 looks at trends among startup ecosystems in areas such as funding and talent. It also examines the growth and decline of sub-sectors, both globally and in individual ecosystems. One key finding shows that Deep Tech startups — those relying heavily on intellectual property — are the fastest-growing group globally. The four fastest-growing Startup Sub-Sectors are Advanced Manufacturing & Robotics, Blockchain, Agtech & New Food, and Artificial Intelligence (AI). By contrast, Startup Sub-Sectors showing decline are Edtech, Digital Media, Gaming, and Adtech.
"As our economies transition to the fourth industrial revolution, we — communities driving the global startup revolution — have a major role to play," said JF Gauthier, founder and CEO of Startup Genome. "Not only can startup ecosystems act as the top engine of job creation and economic growth, but our startups can also help solve many of our society's biggest challenges including climate change and inequality."
Key highlights from the #GSER2019 include:
There is no "next" Silicon Valley — instead, there are 30 startup ecosystems around the world that will soon lay claim to a parallel vibrancy and economic productivity.
Movement within top 30 rankings: Paris cracked the top 10, moving up two spots to #9 overall; Amsterdam-StartupDelta moved up four spots to #15 overall; San Diego and Washington, D.C. cracked the top 20 for the first time.
While early-stage funding for startups has more than doubled since 2011-12, it has risen by a factor of 8 in Agtech & New Food — and quadrupled in AI.
The #GSER2019 ranks the top 30 startup ecosystems globally on seven Success Factors, including Performance and Talent. The top five startup ecosystems overall in 2019 are Silicon Valley, New York City, London, Beijing, and Boston. Additionally, the 2019 GSER includes the first-ever analysis and rankings of startup ecosystems in the Life Sciences sub-sector. Based on Success Factors such as Funding and Knowledge, the top five ecosystems for Life Sciences are Silicon Valley, Boston, San Diego, New York City, and London.
"As GEN works to build and connect entrepreneurial ecosystems around the world, the Global Startup Ecosystem Report shows how to create environments in which entrepreneurs can start and scale new firms beyond a handful of startup meccas," said Jonathan Ortmans, founder and president of the Global Entrepreneurship Network. "This report provides a guide for ecosystem leaders as they aim to empower entrepreneurs everywhere."
Featuring new and exclusive content, the #GSER2019 provides insights and guidance to public and private leaders in dozens of countries and cities — from Bahrain to New Zealand — about how to cultivate vibrant startup ecosystems. The report outlines key Success Factors for startups, constituting the new science for entrepreneurial ecosystem development.
Find out how more than 50 entrepreneurial ecosystems across the world stack up and download the full report here: https://startupgenome.com/gser2019.
ABOUT US
Startup Genome works to enhance startup success and ecosystem performance everywhere. Our mission and impact are rooted in over a decade of independent research with data on over a million companies across 150 cities. We work side-by-side with more than 300 partner organizations, including data partners Crunchbase, Pitchbook, Orb Intelligence, and Dealroom. Our frameworks and methodologies have become instrumental in building foundations for startups to grow. Many of the world's leading governments and innovation-focused organizations have joined our knowledge network to cut through the complexities of startup ecosystem development and fuel sustained economic growth. Considered the new science of startup ecosystem assessment, we point to key gaps in startup ecosystems and prioritize actions to take in addressing them. Together with global thought leaders, we define robust strategies and implement programs to drive lasting change. Follow our work at startupgenome.com or find us at Facebook, Twitter, and LinkedIn.
For interviews and further inquiries, please contacts us:
Dane Stangler
President & Chief Policy Officer, Startup Genome
dane.stangler@startupgenome.com
+1-913-634-4476
Tricia Whitlock
PR, Marketing, & Communications, Startup Genome
tricia@startupgenome.com
+1-770-561-1701
Source: Startup Genome
Like what you read? Give us one like or share it to your friends
original post…
Newsflash: Why This Virginia Police Department's Pension Just Invested in a $40 Million Crypto Fund
Frequent Bitcoin commentator and t-shirt salesman Anthony Pompliano instructed Bloomberg this morning that two Fairfax County, Virginia pension finances have long past in on Morgan Creek Digital's new fund for cryptocurrency corporations. The finances constitute $1.2 billion in property for the pensions of police and different public employees within the county.
$25 Million Fund Oversubscribed to $40 Million
The $40 million fund initially handiest sought $25 million. A small portion of its funding might be in liquid blue chip cryptos like Bitcoin and Ethereum. Investment in cryptocurrency corporations would be the majority of the fund's paintings, alternatively. Coinbase and Bakkt have already been named as goals for funding.
Public pension finances affect almost 20 million Americans. Nearly 4,000 exist. If the experiment in Fairfax County is going neatly, and police have an much more relaxed retirement in consequence, will others apply swimsuit?
Is the herd now coming? https://t.co/n4WZG4ZQAM @business @crypto @APompliano

— Alastair Marsh (@AlastairJMarsh) February 12, 2019
Bloomberg reports that "an insurance company, a university endowment and a private foundation" could also be throwing in with the fund. It has already bought equity in Bakkt, the Starbucks/NYSE crypto alternate which can most probably release America's first Bitcoin ETF (ultimately).
Everything might be tokenized at some point, Morgan Creek satisfied asset managers. Whatever the crypto markets had been doing, blockchain as an trade has been attracting lots of the brightest minds in Silicon Valley for years. Fairfax County's police fund leader funding officer Katherine Molnar told Forbes:
"Blockchain technology is being applied in unique and compelling ways across multiple industries. We feel it is important to be opportunistic and are excited to participate in this emerging opportunity."
Meanwhile, Pompliano instructed Bloomberg:
"The smart money is not distracted by price but looks at the long-term trends, and believes they're betting on innovation as a great way to deliver risk-mitigated returns."
Coinbase and Bakkt: First Choices for Morgan Creek
To safely arrange the cash, Morgan Creek wishes to concentrate on corporations indirectly hooked up to the price of Bitcoin. Companies centered at the innovation of the blockchain itself, exchanges that benefit whether or not the associated fee is up or down, and corporations having a look to make use of the generation for public hobby tasks. In addition to Bakkt, the fund is creating a play in Coinbase, the king of retail crypto gross sales.
The outspoken Bitcoin bull Pompliano may simply make investments the cash in Bitcoin at those bargain costs if it have been as much as him, alternatively. He spends a substantial amount of time on Twitter telling other folks to prevent ready round.
Buy Bitcoin. https://t.co/zJjaUYgAnp

— Pomp 🌪 (@APompliano) February 11, 2019
Pompliano not too long ago made headlines when his podcast "Off the Chain" was once banned by Apple without warning. Morgan Creek Digital's $1 million bet against the inventory marketplace as of but has no takers, indicating that whilst some other folks discuss strongly towards cryptos, most of the people aren't certain sufficient to place their cash the place their mouth is.
<![CDATA[
]]>
Like what you learn? Give us one like or percentage it for your buddies
original post…