RPM Outlet to Accept Cryptocurrency Payments Including Bitcoin Diamond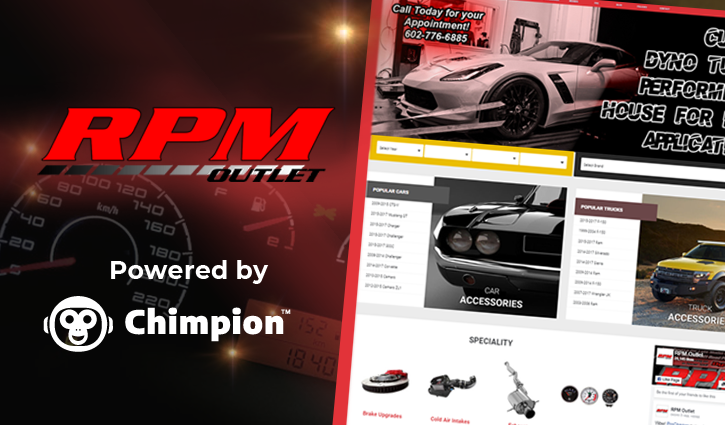 Online automotive retailer now adding cryptocurrency to their list of payment options
Press Release – updated: Feb 7, 2019
PHOENIX, February 7, 2019 (Newswire.com) – Online automotive retailer RPM Outlet is eager to announce that it will accept payments in cryptocurrency as part of the Chimpion network in collaboration with Shopping Cart Elite. This will enable automotive dealers and enthusiasts to purchase parts using Bitcoin Diamond (BCD), Bitcoin Cash (BCH), Bitcoin (BTC), Dash, Ethereum (ETH), Litecoin (LTC), and Zcoin (XZC).
RPM Outlet is an American e-commerce storefront that supplies vast amounts of American muscle and diesel high-performance car parts. Through collaboration with Shopping Cart Elite, RPM Outlet becomes a merchant of the Chimpion community which introduces both RPM and its customers to the many efficient and cost-effective features provided by Chimpion's new cryptocurrency platform. By now accepting payments in cryptocurrency, RPM is providing customers around the world unlimited access to their wide variety of American muscle and diesel high performance car parts.
"At RPM Outlet, our motto is 'Online Shopping & Same Day Shipping,'" said CEO Jeremy Thompson. "Since crypto payments are processed almost instantly, we can get our orders out faster than ever without having to worry about payments bouncing after the products have left our warehouse. Becoming a Chimpion merchant will help us to stay true to our mission and boost our bottom line."
By paying with cryptocurrency, customers around the world now have unprecedented access to RPM Outlet's vast collection of car parts with lightning fast transactions that take just minutes to process. Furthermore, thanks to drastically reduced transaction fees (less than a penny), eliminated currency conversion fees, and freedom from chargebacks, RPM Outlet is able to pass on even more savings to their customers.
Over the past several years, cryptocurrency has emerged as the next evolution of currency, thanks to its convenience, cost-effectiveness, and decentralization. Designed as a means of transaction as peer-to-peer electronic cash, it matches the functionality of traditional fiat currency and goes beyond in efficiency, accessibility, and security. Bitcoin, the first cryptocurrency, was launched in 2009, and hundreds of other digital currencies have since followed. In December 2017, the total market capitalization of cryptocurrency reached a staggering $818 billion, subsequently correcting above $200 billion.
About RPM Outlet
Under new ownership since March 2017, RPM Outlet is committed not only to providing a vast variety of leading car parts, but to making easy, quick and trusted deliveries. Always on the hunt for new products, RPM Outlet dedicates time to gaining a thorough understanding of every car part before offering it online to assist customers in making informed decisions.
RPM Outlet is loyal to its vendors, maintaining longstanding partnerships with brands including DiabloSport, SCT, BBK, Procharger, and K&N. By constantly investing in up-to-date website technology, RPM Outlet sustains a secure online shopping experience which assists customers in a convenient ordering process.
About Chimpion
Chimpion is a cryptocurrency e-commerce platform that enables any merchant to begin accepting cryptocurrency payments online. By holding Chimpion's Banana Token (BNANA), merchants can gain access to Chimpion's robust crypto e-commerce platform for free, without needing to pay a monthly subscription fee. Chimpion was developed using technology from Shopping Cart Elite, Paytomat, and Bitcoin Diamond (BCD) and combines comprehensive e-commerce features with convenient payment processing.
Chimpion's primary goal is to drive the adoption of cryptocurrency as a payment solution by operating a rich e-commerce platform centered around digital assets. New startups and established merchants alike can become part of Chimpion's vast network to take advantage of its fast and affordable transactions and user-friendly infrastructure.
About Bitcoin Diamond (BCD)
Bitcoin Diamond is a Bitcoin fork that was created to solve the slow transaction confirmations and high threshold requirements of Bitcoin. Through BCD Pay, business owners are able to offer their products to a global market without needing to absorb expensive fees from international payments. Furthermore, with BCD Pay, business owners do not have to worry about costly chargebacks from indecisive or fraudulent customers.
Earlier this year, BCD debuted BCD Bazaar, an international marketplace that gives customers access to a wide range of products from across the world by accepting payments in Bitcoin Diamond (BCD) or Bitcoin (BTC).
Media Contact:
​ Jeremy Thompson
Email: service@rpmoutlet.com
Source: RPM Outlet
Like what you read? Give us one like or share it to your friends
original post…