REMCO Launch Changes How World Currencies Are Transferred by Tokenizing Every Nation's Currency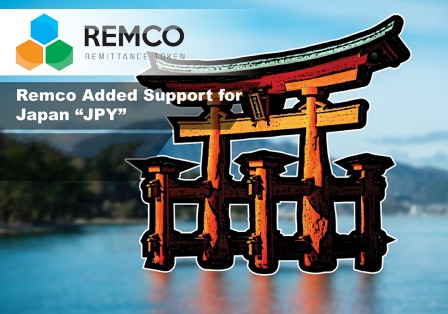 New B2B2C Platform elegantly re-engineers away problems with existing international money transfer
Press Release – updated: Apr 24, 2019
LAUREL, Md., April 24, 2019 (Newswire.com) – A new platform launched by the software company REMCO, Inc. offers an entirely new and different approach to sending money that improves the process for all.
REMCO is a tokenized rapid money transfer platform for which allows licensed money transmitters to mint programmable tokens. The tokens move value and leverage a distributed ledger at scale and in real time while offering compensation to all transaction stakeholders.
It works like this:
REMCO's platform mints programmable remittance tokens with a value set by authorized users, which must be licensed money transmitters (MTO).
MTOs distribute the newly minted remittance tokens in real time to senders – either online or via an agent network.
Senders receive tokens and use them to transfer money to the recipients' bank account or mobile wallet globally. Funds on the token can be split among multiple recipients.
These tokens can also be customized to pay utilities, taxes, tuition, and rent.
This new approach has a number of advantages over traditional methods that predominate in the industry. Remittance Tokens offer much more flexibility to senders by allowing funds to be easily split among multiple recipients. They eliminate the data mismatch problems that cause aggravation and expense along the chain. They do not hold a credit card or bank account data that might be hacked. And REMCO Remittance Tokens use a private blockchain to record token details and on which transactions self-verify.
VTNGLOBAL, INC., (Sister Company) provides mobile and web e-commerce solutions in the emerging markets and globally. Remittance-related blockchain projects face significant market entry barriers due to multi-jurisdictional regulations, and this is not a hurdle for the REMCO platform, which benefits from VTNGLOBAL's established position in the market and exposure to millions of subscribers with global reach from Day One.
The company has a powerhouse leadership team of executives, investors and advisors with complementary backgrounds whose credentials range from former United States Assistance Secretary of the US Airforce, experiences with PayPal, the US Federal Reserve Bank, Adobe, Harvard PhDs, King's College Alumnus, Wharton MBAs, AML experts, and a former state bank examiner.
"There is a consensus that global remittances can be more efficient with blockchain technology and a successful tech-build using blockchain requires not just blockchain expertise, but the kind of superior understanding of the existing money transmission model and how blockchain can be used to improve on the processes that REMCO has," said Peter Ojo, CEO & CTO. "By tokenizing currency, companies can take advantages of blockchain technology that works today. REMCO's blockchain solution tokenizes, secures and distributes digital assets, such as stored value gift cards, effortlessly."
The new REMCO platform is available to any licensed entity seeking the advantages of its re-engineered processes. Tokenization has the potential to disrupt the $613 billion remittance market and $1.5 trillion global gift card market and has been demonstrated to have the capability to bring about greater efficiency and transparency.
For more information, go to https://remcosoftware.org or http://www.remittancetoken.io.
# ## #
Source: Remco Software, Inc.
Like what you read? Give us one like or share it to your friends
original post…
Meteoric Crypto Recovery: Here's What Triggered Bitcoin Price Above $8,000
By CCN: The bitcoin price has surged by seven percent in the past several hours from $7,300 to around $8,000 in major markets including the U.S., demonstrating a strong recovery from its abrupt drop to $6,400.
On May 17, as CCN reported, the bitcoin price briefly plunged to $6,400 by more than 18 percent against the U.S. dollar.
Market eating up an 18% bitcoin drop quickly is a sign of positive sentiment
Analysts including Dovey Wan, a founding partner at Primitive, stated that the brief price drop of bitcoin on Friday was likely due to manipulation engaged by a single investor.
As the investor sold 5,000 BTC on Bitstamp, it triggered contracts on BitMEX, which heavily relies on Bitstamp, to get liquidated.
This is what happened

1. A jackass put up an aggregated sell of 5000 $BTC on stamp

2. Stamp poor depth + algo glitch?

3. Bmx index is 50% on stamp

4. Massive Bmx liq tanked the mkt

5. Despite all ☝🏻BTC quickly bounced back to $7000

This might be the best chance to BTFMD

— Dovey Wan 🗝 🦖 (@DoveyWan) May 17, 2019
Since dropping to $6,400, in less than two days, the bitcoin price has recovered to $8,000, by more than 25 percent within a 48-hour span.
The immediate absorption of the $13 billion decline in the market capitalization of bitcoin demonstrates the significant improvement in the sentiment around the cryptocurrency market.
Speaking to CCN on May 13, a cryptocurrency trader with an online alias "Satoshi Flipper" said that bitcoin is likely to face healthy retracement in the near-term coming off of a rally from $5,000 to $8,000.
But, the trader emphasized that once the retracement occurs, the dominant cryptocurrency is on track to sustain its momentum over the medium to long-term considering the momentum of the market in recent weeks.
The trader said:
I've been definitely vocal about a healthy BTC retrace, but I do not believe it will be a drastic 30% retrace back into the $4k's. Once we form a local top, I believe we will 10% at the most, then settle down sideways.

That is when we'll have a real altcoin season that everyone is expecting. Upon the immediate retrace, altcoins will take a small hit, but then when BTC settles down sideways, altcoins will rebound in a huge way.
Similarly, in an exclusive interview with CCN, Three Arrows Capital CEO Su Zhu stated that the brief fall of bitcoin to $6,400, which led investors to be cautious about the short-term trend of the asset, is unlikely to lead to a full-blown retracement.
"This is a purely market structure related move, I expect it to be bought up extremely quickly," Zhu said.
As suggested by some investors, the market quickly absorbed the abrupt decline in the bitcoin price on May 17 and with volumes across the board on the rise, the momentum of the asset is expected to be sustained.
$BTC weekly update:

Resistance rejects, support supports.
And people say TA doesn't work.
As long as 6400 holds I'll be a better perm-bull than Parabolic Trav ever was.

This still looks gorgeous to me and I won't touch the red button for quite a while. pic.twitter.com/hVRmD40vjJ

— DonAlt (@CryptoDonAlt) May 18, 2019
The real 10 volume of bitcoin, which estimates the legitimate volume of the asset using the methodology created by Bitwise Asset Management, hovers at around $1 billion. In comparison, in March, the real 10 volume of bitcoin was at $270 million.
What catalysts are on the horizon?
According to Josh Rager, a cryptocurrency technical analyst, if bitcoin finds stability over the $8,200 level, the $9,000 region could be considered a reasonable target in the near-term.
"Bitcoin certainly looks to be pumping, now over previous resistance Price is near $8,000 & looks to be heading toward the $8,200 1D resistance (might consolidate prior) A close above $8,200 on the daily/weekly would be very bullish and would target $9,600+," said Rager.
With the block reward halving expected to occur in May 2020, which historically has been a fundamental catalyst for bitcoin, and the custodial infrastructure supporting the asset class noticeably improving, the sentiment around the market may continue to progress in the upcoming weeks.
Click here for a real-time bitcoin price chart.
Like what you read? Give us one like or share it to your friends
original post…