Here's Why Fortnite Doesn't Need a Lame Avengers Crossover
By CCN.com: Fortnite is a phenomenon. A money-chugging, time-sucking behemoth of a game that has upset the apple cart, closed down gaming studios that couldn't compete, and reset the clock.
Epic Games stumbled across the winning formula way back in 2017 when another battle royale-style game, Player Unknown's: Battlegrounds, was keeping everyone busy. Since then it's grown into a $2.4 billion money-printing machine, and it shows no signs of slowing down.
Fortnite's Avengers: Endgame crossover has been revealed, and goes live today. https://t.co/Qhl2pFg5FM pic.twitter.com/2FTczcTVXR

— IGN (@IGN) April 25, 2019
Enjoyed by millions of players globally on PC, Playstation and Xbox its success is driven by microtransactions, and a format that keeps people coming back for more.
Now, Epic is cashing in on the latest Avengers blockbuster with a limited time event where players can prance around as their favorite Marvel hero or villain and dish out untold pain to pre-teen boys (and girls) globally.
But you know what? Fortnite doesn't need a lame Avengers crossover, Avengers needs Fortnite. Its first movie Avengers Assmble only pulled in a measly $1.5 billion after all.
It's just lame
As expected gaming media are gushing like crazy over the latest Fortnite event: "One of the best games I've ever played" says Verge, "An exhilarating blend of Hollywood and gaming's biggest franchises."
Nope, I disagree. Here's why Fortnite doesn't need a lame Avengers crossover.
Crossovers suck. Big time. On top of homogenizing much-loved franchises into hodge-podge mutants that nobody wants they smack of desperation and a distinct lack of creativity from game and film studios with too much time and money on their hands.
Marvel: Infinity War is the most ambitious crossover event in history.

Me: pic.twitter.com/XfUgrytOT7

— Matthew Edwards (@TheStreetWriter) March 20, 2018
Avengers itself is a blatant cash grab of Marvel's best (and worst) superheroes. Before Avengers Assemble who had honestly heard of lame archer-with-no-powers 'superhero' Hawkeye?
But all of a sudden he's a Jeremy Renner-shaped big deal and we're all meant to give a s**t. WTF?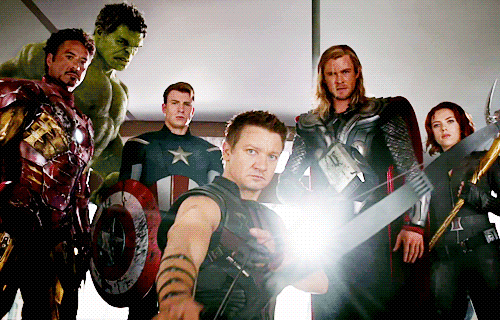 | Source: Giphy
The sad thing is we do. We lap it up, and Hollywood lines up its next weird mix for us all to mindlessly consume.
Who can remember these classics?
And
Fortnite, you're better than this
Epic Games is behind a tonne of good initiatives to help developers, recently pledging $100 million to help game developers no strings attached. It would be great is they can continue helping the industry to create instead of kowtowing to whatever fad is on the calendar.
Fortnite, it's time to wake up, you're being scammed. All these guys want is a cut of your money.
Until then though keep doing what you're best at.
Like what you read? Give us one like or share it to your friends
original post…
$370 Billion Asset Manger Janus Says US Stock Market is Careening Toward Recession
According to George Maris, the co-head of equities of Americas at Janus Henderson, an asset supervisor with $370 billion in AUM, a recession within the U.S. obviously stays a near-term chance, which might totally opposite the bullish development of the U.S. inventory marketplace.
"It's [a U.S. recession] clear a near-term risk. If we can't get trade negotiation results favorably, we've got weakening investment to look forward to. I mean there's going to be a problem," Maris said on Bloomberg Markets.
The Janus Henderson govt defined geopolitical dangers, home politics, and quite a lot of uncertainties surrounding the U.S. inventory marketplace because the core problems that can result in a full-blown recession within the close to long run.
Very Little Appetite to Get Things Done within the U.S., Stock Market Momentum in Decline?
Over the closing seven days, primary indexes within the U.S. inventory marketplace within the likes of the Dow Jones and the Nasdaq Composite have retraced following a powerful few weeks in January.
While some analysts have stated that the recent momentum of the Dow and its friends has satisfied retail buyers to spend money on the U.S. marketplace, elementary problems stay unchanged.
Primarily because of the home politics within the U.S. and the focus established on strengthening the southern border, Maris stated that the urge for food to transport ahead from each buyers and corporations has declined.
Maris famous:
"Given the political issues in the United States, there seems to be very little appetite to anything done, so it will be hard to get fiscal expansions, whether it is infrastructure-based or otherwise; tax cuts, etc. to happen is going to be unlikely."
Considering the state of U.S. politics and the loss of vital growth within the U.S.-China trade talks, the Janus Henderson govt emphasised that dangers of recession will inevitably raise.
"So with that kind of uncertainty happening over the economy, you know recession risks are going to elevate," he added.
The govt echoed the sentiment of Nobel Laureate Paul Krugman, who stated that the U.S. marketplace is in a worse position than it used to be 10 years in the past all through the Great Recession.
In the closing ten years, Maris defined that the ammunition or the choices of the central financial institution to stop a recession have declined, which will increase the likelihood of a recession within the upcoming years.
Am I lacking one thing? I'm hoping so. But at this time I will't see an finish to this that does not first contain the financial system and the overall state of American existence going to hell. 6/

— Paul Krugman (@paulkrugman) January 22, 2019
The Dow, S&P 500, and Nasdaq are recently ready at the end result of the U.S.-China business talks with low volatility and a reasonably top stage of steadiness.
If the U.S. will get a complete business deal completed by means of March 1, lots of the dangers concerned out there might be eradicated.
However, Maris warned that during a conceivable state of affairs through which a business deal isn't completed, there exists an opportunity of a steep downturn out there.
He defined:
"If you get trade resolved, then you can start to see those risks diminish. I think what Paul Krugman was talking about was, in fact, there is less central bank ammunition to fight off any sort of recession or financial crisis that we had in 2008 and I think he is right with respect to that."
Even If a Recession Occurs, It Won't Be Anything Like the 2008 Financial Crisis
If a recession happens within the subsequent 12 months or two, Maris mentioned that it's going to no longer mirror the disastrous affect the former 2008 monetary disaster had at the U.S. financial system.
The basics within the native financial system stay robust with employment rates and family balances sheets at document ranges.
"The actual fundamental elements of the economy are good," the chief stated, including that even supposing a recession happens, the impact it would have at the U.S. marketplace is proscribed.
Featured Image from Shutterstock
<![CDATA[
]]>
Like what you learn? Give us one like or proportion it for your buddies
original post…