EverusPay – the Future of Payment Solutions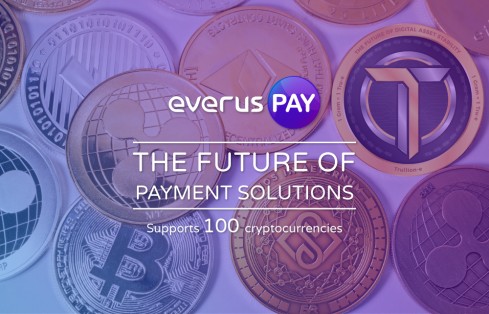 Press Release – updated: May 8, 2019
KUALA LUMPUR, Malaysia, May 8, 2019 (Newswire.com) – ​​As a key component in the Everus World ecosystem, linking users to merchants, the launch of EverusPay by Everus Technologies (HK) Limited provides online merchants with the ability to accept a variety of payment types in the form of cryptocurrency.
"With over 100,000 Everus wallet users now active in over 90 countries, the opportunities for online merchants to expand and capture a new market audience are finally here"
Start Accepting Payments in Cryptocurrency
The emergence of cryptocurrencies over the past few years has opened up a new market for merchants, providing them with opportunities to receive payments from customers anywhere in the world without the worry of being restricted to limited currencies and high transaction fees, which typically applied to credit card transactions. Besides, merchants are able to choose to accept payment from 100 cryptocurrencies, including EVR, Tru-e, BTC, ETH and LTC, opening up market expansion opportunities for merchants as well as the world of convenience for customers.
By embracing EverusPay, not only can you expand your market opportunities to do business with potential synergistic partners, but you also attract a wide customer base that will be more inclined to make a purchase.
Easy to Set Up with No Joining and Monthly Fees
Integrating your online store with EverusPay is a fast and simple process using our API solutions. Our technical support team is available 24/7 to assist with this process, as well as to recommend any changes to your existing system to make the purchasing process more efficient for your customers. Merchants who use EverusPay, benefit from zero sign up and monthly fees; this means you only ever pay a transaction fee on sales that are processed using the EverusPay payment gateway. In addition, the added benefit is that merchants can exchange multiple cryptocurrencies into any major fiat currency, such as USD, EUR and GBP, and transfer to any bank account in the world.
Save Costs and Boost Your Cash Flow
Accepting cryptocurrency as a form of payment provides savings for merchants due to the low transaction fee of 1%, compared to credit card and bank transfers which are often much higher. This saving allows merchants to provide further discounts on their products/services and offer more competitive pricing to the end users.
Understanding that "cash flow" is one of the biggest obstacles faced by businesses globally today, EverusPay provides merchants with faster access to their funds, reducing the settlement period to 24 hours for transactions accepted in EVR, Tru-e, BTC, ETH, and LTC, compared to the average 2-7 days many merchants face when receiving funds processed through credit card transactions.
Variety of Payment Options
The EverusPay gateway offers merchants the ability to accept four types of payments from customers, catering to different types of businesses and their requirements:
| | |
| --- | --- |
| Single Payment | For the single payment of product/service |
| Recurring Payment | Daily/Weekly/Monthly payment of the same amount |
| Affiliate Payment | For payments which require the commission to be paid to Agents/Partners |
| Batch Payment | For paying multiple users in one transaction |
Secure Transactions
As a payment gateway built on blockchain technology, EverusPay solves one of the major challenges for merchants today by ensuring that all transaction data is secure and all payments received are authorized and free from cases of identity theft and fraud.
Using a decentralized distributed ledger system to keep a record of all transactions. Every transaction is verified and encrypted, indicating that the data on the blockchain is secure and incorruptible. Once the transaction is confirmed, it cannot be reversed and counterfeited.
For added security and easy access to funds, both customers and merchants benefit from the security and user-friendly Everus wallet interface. Only users of the Everus wallet are able to access and authorize the transfer of funds in payment for products/services purchased via the EverusPay Payment gateway.
EverusPay currently supports 100 tokens, with additional tokens to be added over the coming months. To learn more of the 100 cryptocurrencies, click the link below.​https://media.everuspay.com/everuspay.com#paymentSolutions
​Contact us today at support@everuspay.com to become an EverusPay Partner merchant. For more information on how EverusPay can benefit your business, visit our website at www.everuspay.com
Source: Everus Technologies (HK) Limited
Like what you read? Give us one like or share it to your friends
original post…