Building XRP Use Cases, Will Stefan Thomas AMA Trigger a Ripple Rally?
Ripple consolidating with caps at 40 centsAfter Kava and Switch, Stefan Thomas' AMA may drive XRP pricesCoil is a blogging platform monetize content, rewarding creators with XRP or USD. It is a creation of Stefan Thomas, a former employee of Ripple. In an AMA session, the community is waiting for gems that will probably spur participation, driving XRP above 40 cents.Ripple Price AnalysisFundamentalsStefan Thomas, the former Ripple Chief Technical Officer (CTO) and creator of the InterLedger Protocol, will hold an ask-me-anything (AMA) session on May 30th. Hosted in Reddit, it will be interesting to hear what the founder of Coil has to say about their plans. The AMA will be a few days after Kava labs announced the launch of Switch."Switch sidesteps the problems of traditional DEXs by employing a novel solution: streaming micropayments, which work by moving little bits of value piece-by-piece until a complete payment or trade is complete."While at it, David Walsh, a Senior Web Developer and Software Engineer at Mozilla, is testing Coil. The revelation is five years after he created an account. It is understandable. David is an educator and regularly blogs.On the other hand, Coil's ambition is to reward content creators, launching their beta platform in early May. The blogging platform includes an optional $5 monthly subscription that pays content creators as subscribers browse.Candlestick Arrangements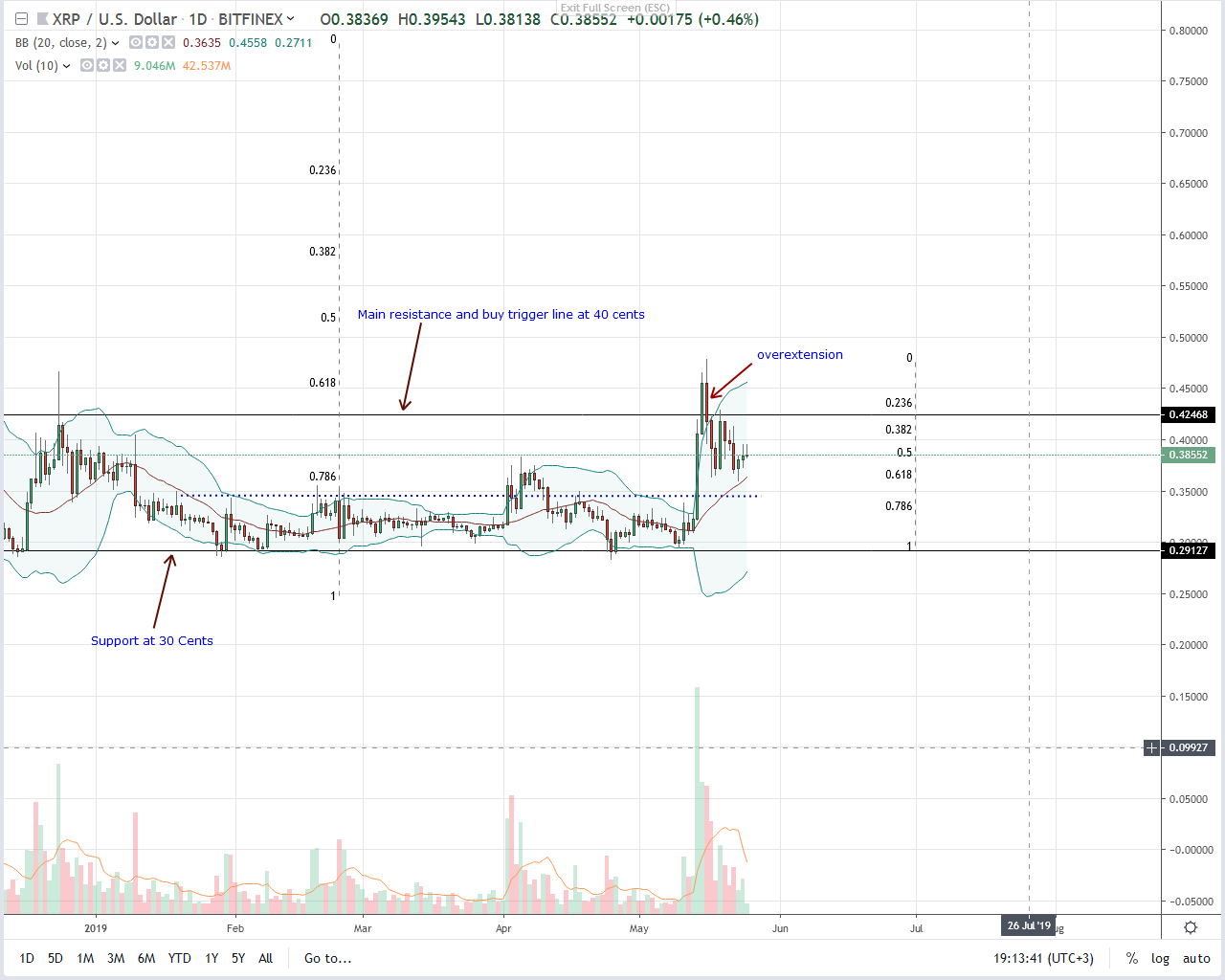 At the time of writing, XRP is changing hands at 38 cents. It is constant against the USD and held within a broader 10 cents trading range. Although traders expect higher highs in line with recent candlestick alignment and trend set by Sep 2018 bull bar, XRP is under pressure.Liquidation pressure stems from fundamental factors as well as price action. Note that buyers are yet to clear the 40 cents mark with this being the sixth month. All the same, it is likely that a breakout above 40 cents (or below 30 cents) shall spur participation.If there is a surge, odds are XRP will rally to Dec 2018 highs of around 50 cents. That will be the primer for 80 cents especially if the breakout bar registers a spike in participation. Nonetheless, before that, aggressive traders should be accumulation on dips with safety nets below 34 cents, our minor support line.Technical IndicatorsAlthough May 14th and 15th bars are conspicuous, May 19th bull bar is where XRP/USD price action is consolidating in. It has average volumes of 56 million. Nonetheless, it is wide-ranging and bullish.Therefore, for trend continuation, any bull bar signaling continuation of buy trend and closing above 40 cents must be propelled with trading volumes above 56 million.Chart courtesy of Trading View. Image Courtesy of Shutterstock
Like what you read? Give us one like or share it to your friends
original post…
Boost Insurance unveils product covering against crypto theft from qualified custodians
Boost Insurance, an insurance infrastructure-as-a-service platform, alongside go-to-market partner, Breach Insurance, a company that provides insurance technology and regulated insurance products for the cryptocurrency market, today announced the launch of Crypto Shield, an insurance product for cryptocurrency available to retail wallet holders.
Crypto Shield covers the theft of cryptocurrency while in the custody of a qualified custodian.
The Crypto Shield product allows individuals to purchase protection for their crypto wallets held by select custodians. In the case that the custodian is breached or suffers a social engineering attack resulting in lost assets, individuals insured under Crypto Shield can be reimbursed for the value of their policy.
Boost + Breach
While there is some commercial insurance available to cryptocurrency institutions, Breach envisioned Crypto Shield as a solution to the protection gap that currently exists for individuals holding crypto, securing a partnership with Boost to assist in bringing the Crypto Shield product to life.
Boost's insurance infrastructure-as-a-service packages the necessary operational, technological, compliance, and capital requirements for new insurance programs into a white-label solution, enabling insurtechs like Breach to swiftly launch new lines of business.
"Boost's deep expertise and insurance infrastructure-as-a-service platform, and Relm's industry-leading crypto reinsurance capabilities, have positioned Breach to bring a highly complex insurance product to the market in a beautifully delivered customer experience."
– Eyhab Aejaz, Co-Founder & CEO at Breach
To deliver that product in a seamless experience, Boost and Breach's platforms connect via API, allowing Boost's policy administration system to deliver back-end management for the Crypto Shield product. Breach's customers are then able to purchase and manage every part of their policy and claims process, all from within Breach's proprietary crypto insurance platform.
"With Boost's infrastructure-as-a-service platform, companies like Breach can launch and deliver innovative new insurance offerings, at a fraction of the time and cost required to build a full-stack insurance program from scratch."
– Alex Maffeo, CEO & Founder of Boost
In addition to powering the new product, Boost and Breach partnered to source and secure the necessary reinsurance backing from industry expert Relm Insurance Ltd. (Relm), underwritten by Trisura Specialty Insurance Company. Operating out of Bermuda, Relm is a capacity provider to the crypto sector with a track record of insuring companies across the ecosystem. Relm has recently been awarded an 'A Exceptional' Financial Stability Rating (FSR) by Demotech.
"Relm's partnership with Boost and Breach to reinsure the US's first cryptocurrency insurance product for retail wallet holders is a milestone in supporting the development of crypto and blockchain technologies."
– Joe Ziolkowski, CEO at Relm
The post Boost Insurance unveils product covering against crypto theft from qualified custodians appeared first on CryptoNinjas.
Like what you read? Give us one like or share it to your friends
original post…