Binance Coin (BNB) is Marching Towards Its 2019 All-Time High
Binance Coin (BNB) appears to have shaken off the drama of the past two weeks and steadily approaches is 2019 all-time high.
---
Binance Coin (BNB) Overview
While Binance Coin 00 has been one of 2019's top performers it has been something of a laggard over the past week, especially when compared against Bitcoin's price action.
Binance recently reopened for withdrawals and deposits after enduring a shocking $41 million hack and this combined with Bitcoin's continued surge has lifted the price 34% since last Friday.
Despite these gains, the daily BNB-BTC pairing remains bearish but the BNB-USDT pairing is re-approaching its all-time high so we'll focus our attention there.
BNB-BTC Daily Chart
Daily Chart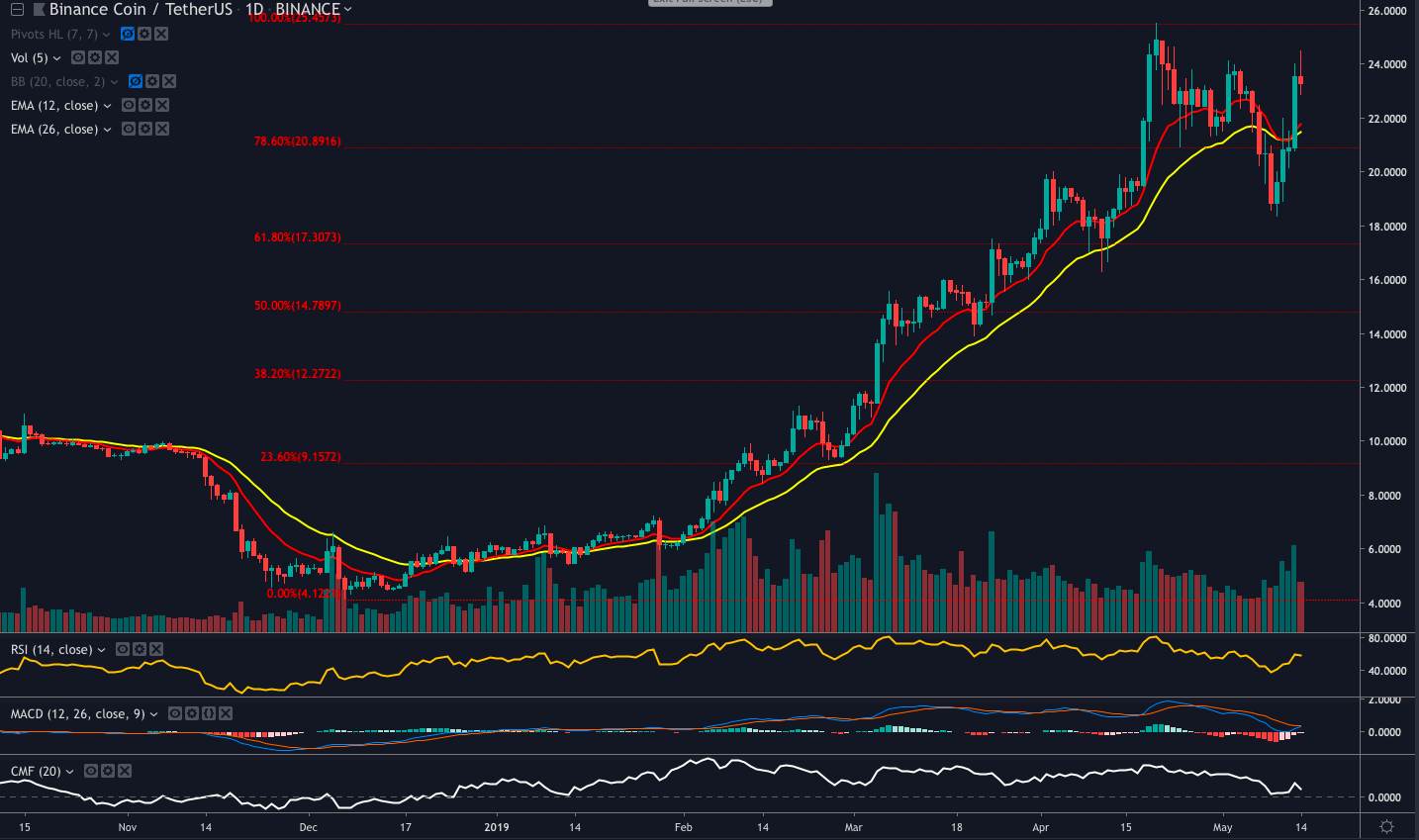 The strong 3-day move restored BNB above the ascending trendline and a little more than $1.00 from its 2019 USD high. The daily chart shows an impending bullish cross of the MACD and the RSI hovers in the midline between bullish and bearish territory.
The 12 and 26 EMA are also on the rise as the 12EMA beings to put some distance between itself and the 26 EMA. Generally, BNB is well positioned at $22 and since rallying to $24.50 BNB has pulled back 5.37% but rests on support at $23.16.
4-Hour Chart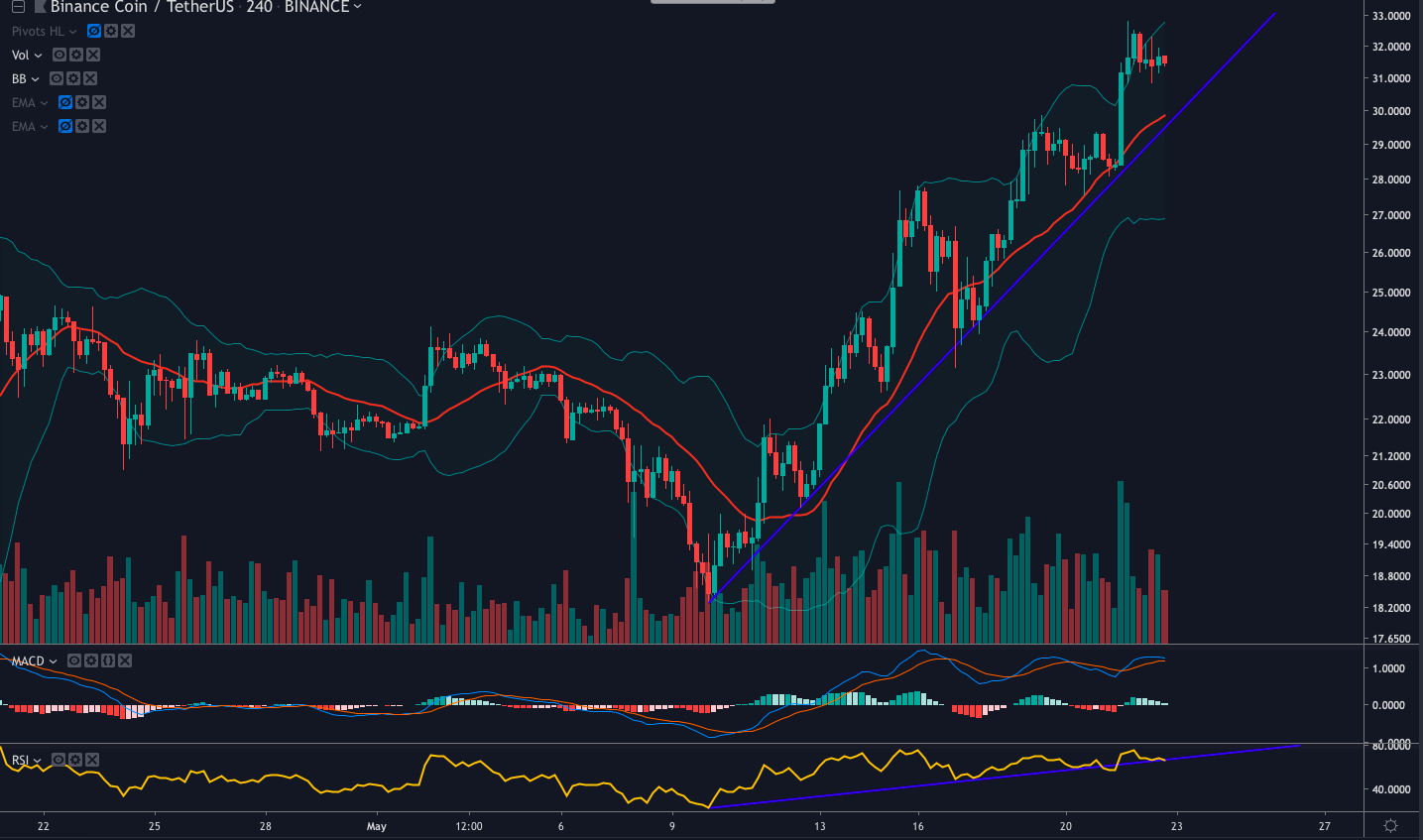 BNB also has a tendency to bounce off the middle band of the Bollinger band indicator so below the $23.16 support $22.30 could serve as a bounce point and it is also aligned with the 38.2% Fib retracement level.
At the time of writing, the 4-hr chart suggests BNB is bullish over the short term as the RSI is in bullish territory and the MACD still has some room to run before turning down but traders should be mindful that Binance is scheduled to undergo a 6 to 8-hour maintenance on May 15.
And the exchange is also re-opening deposits and withdrawals so it is possible that funds could move out of BNB into BTC and altcoins or even to other exchanges. These events could exert some bearish pressure on BNB over the short term.
Do you think Binance Coin will soon overcome its 2019 all-time high? Share your thoughts below!
[Disclaimer: The views expressed in this article are not intended as investment advice. Market data is provided by Bitfinex. The charts for the analysis are provided by TradingView.]
Trade Bitcoin, Litecoin and other cryptocurrencies on online Bitcoin forex broker platform evolve.markets.
---
Images courtesy of Shutterstock, Trading View. Market data sourced from Coinbase
Like what you read? Give us one like or share it to your friends
original post…
Bitcoin SV (BSV) Dump Awaits after Mindless Rally Gained 200% Returns
By CCN: It took Bitcoin SV just two hours grow its market valuation from $1.09 billion to $2.478 billion.
There are no clarifications about how the world's eleventh largest yet controversial cryptocurrency managed to attract approx $1.4 billion. The move just happened out of thin air, as if somebody with a big bag of money – or even cryptocurrencies – was waiting to click on the big buy button. As of 1315 UTC yesterday, the BSV-to-dollar exchange rate had established its all-time high at $195 on Huobi, up more than 200-percent from the market open.
The price action surprised, partially because Bitcoin SV lately emerged as one of the cryptoverse's most-controversial blockchain projects. The BSV creator, Dr. Craig S Wright, in April, dragged people who questioned his claims of being the bitcoin creator, Satoshi Nakamoto, to court. In a sign of protest, cryptocurrency trading firms ShapeShift, Kraken, and Binance delisted BSV, causing the price to crash by as much as 50-percent in just 20 days.
We stand with @binance and CZ's sentiments. We've decided to delist Bitcoin SV #BSV from @ShapeShift_io within 48 hrs.

— Erik Voorhees (@ErikVoorhees) April 15, 2019
BSV had rebounded by up to 36-percent as of May 16 amidst a market-wide bullish sentiment. Nevertheless, the asset failed to overshadow its peers like bitcoin or ethereum in terms of long-term fundamentals. And suddenly, out of nowhere, it was 200-percent up on May 21.
One Foolish Fundamental, Anyway
The Bitcoin SV's massive surge borrowed fat from a new bitcoin copyright registration filed by Dr. Wright with the US government. While such certifications are not much of a big deal, Dr. Wright's associate, Calvin Ayer, projected it like a historic moment. The CoinGeek news portal founder said that their successful registration with the US office was proof that Dr. Craig S Wright is the real Satoshi Nakamoto.
"BSV doubled on Craig's copyright news," Ayre said. "This is only the start of him proving BSV is the only bitcoin. Now is a great time to convert all your other shite coins to Bitcoin."
hahaha…BSV doubled on Craig's copyright news. This is only the start of him proving BSV is the only #Bitcoin. Now is a great time to convert all your other shite coins to Bitcoin 🙂 https://t.co/KNmbMIt5iN

— Calvin Ayre (@CalvinAyre) May 21, 2019
But the fact that Ayer overstated the truth could spoil the BSV bulls' party. Having a copyright on the system does not entitle Dr. Wright with any exclusive rights on Bitcoin, a protocol which remains open-source under the MIT License. It loosely means, 'you can take the code, twist it and make a new brand of it, but you can't own the code, so eat $#!t, mate.'
It looks like big pockets artificially pumped the Bitcoin SV market to validate Ayre's we-are-the-best rant. A 200-percent pump is seldom organic, which is why traders should restrain themselves from buying on higher highs – or even lower highs.
A Dump Incoming?
The Bitcoin SV price has corrected up to 53.09-percent upon establishing its historic high at $195 on Huobi. The hourly RSI projected BSV as an overbought asset, while the latest downside action somewhat neutralized the sentiment. Furthermore, the BSV price is now trending in what seems an unconfirmed bull flag. Intraday traders can locate a Long opportunity towards the upper trendline of the flag formation, while a Short entry towards the lower trendline upon a pullback further appears like a profitable opportunity.
$BSV doubled today. I'm sure it is unrelated to the fact it is not listed on any major exchanges after the #delistBSV movement. I'm sure it's nothing like the 10000 other altcoins that do this on a weekly basis because no one lists them.

BSV to the moooooon baby. Lambo time.

— Don Wonton (@Don_wonton) May 21, 2019
The market bias is bullish at the time of this writing, with a majority of technical indicators signaling strong buying sentiment. Nevertheless, given the flawed fundamentals, a dump at this point of time should not surprise the market.
Like what you read? Give us one like or share it to your friends
original post…