Analyst: Bitcoin Isn't 'Hungover' Anymore, But Don't Expect A Rally Just Yet
As traders have begun to realize that the news regarding the financial status of Tether Limited (USDT's issuer) and Bitfinex isn't all too harrowing, Bitcoin (BTC) has recently stabilized. In fact, analysts have claimed that the crypto market's lack of reaction to the seemingly bearish news shows strong fundamental strength, and may, in fact, be a precursor to a bull run.Related Reading: Bitcoin Price Reaction to Tether Fiasco May Signal Strong Fundamental StrengthHowever, a number of chartists have recently taken to Twitter to note that contrary to popular belief, Bitcoin isn't poised for a rally just yet.Bitcoin Could See One. More. Drop.Since BTC has become a liquid, tradable asset, it has followed short-term and long-term trends, most of which can be charted and extrapolated for price prediction purposes. One popular technical analyst, Brian "The Rational Investor" Beamish, argues that if Bitcoin follows its four-year cycle again, a move lower may soon be inbound.As depicted below (chart courtesy of Beamish), Bitcoin's price action in 2017 was evidently a "blow off top" and 2018's was "the hangover," two macro trends seen in the previous bubble. If Bitcoin continues to follow its trend, 2019 will see BTC rally tremendously, but not without another influx of capitulation first. Beamish suggests that a move to near December 2018's levels will come in the coming months, potentially as soon as June.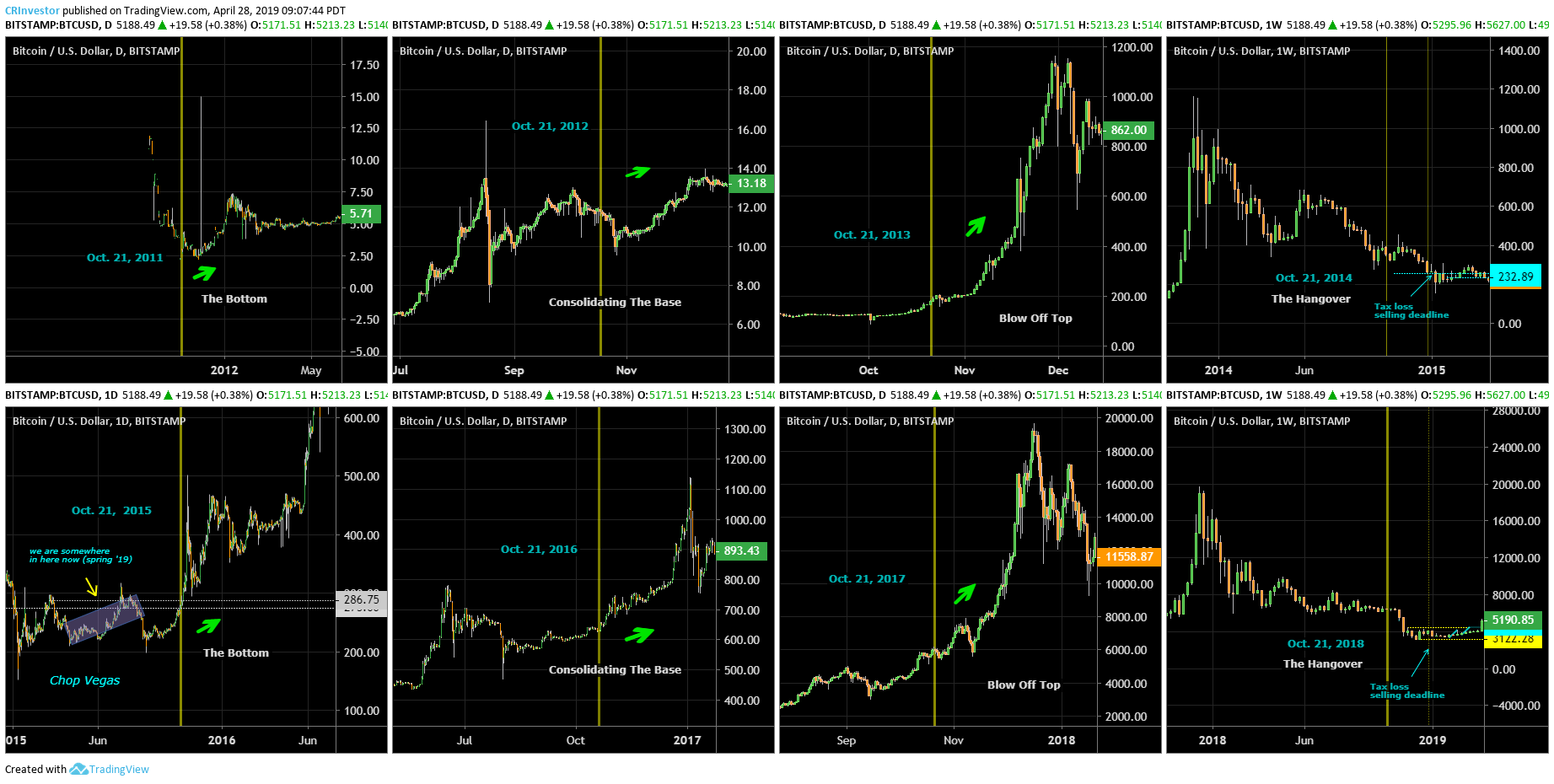 And he isn't alone in touting this belief. Through the medium of a Trading View post, Magic Poop Cannon, a somewhat ill-named analyst that predicted Bitcoin's drop to $3,200, noted that BTC's current chart structure is almost identical to that seen before the "second bottom" in 2015. (For those not versed in crypto market history: in 2015, BTC fell below $200 once, and then touched $200 again months later.)Magic explains that Bitcoin's current price action, the 50-week exponential moving average, 50- and 200-day moving averages, Fibonacci retracement levels, and Relative Strength Index (RSI) readings are all looking eerily similar in structure to that seen in mid-July 2015. And thus he wrote that if BTC tracks its historical trend, the golden cross will form (check), a trading range of $5,000 to $5,300 will hold until May 7th (check), and will collapse to $4,025 by the end of May. He explained further:"Based on this comparison, from a technical standpoint, I have absolutely no reason to believe that we won't retrace to at least the 0.618 [Fibonacci retracement], which is just above $4,000. People who think we are just going to skyrocket above that major resistance around $6,000 are delusional. It took months of testing for us to break down below that level. It will take months of testing for us to break out above it."Featured Image from Shutterstock
Like what you read? Give us one like or share it to your friends
original post…
Grayscale Widens Net for Ethereum Investors with Trust's FINRA Approval
By CCN: Digital asset investment firm Grayscale Investments, which boasts $1.2 billion in AUM, has received regulatory approval for another cryptocurrency product to be traded in the secondary market. FINRA, which is a self-regulatory organization, has given its stamp of approval to the Grayscale Ethereum Trust for the over-the-counter (OTC) markets under the trading symbol ETHE.
While this investment vehicle launched back in 2017 during the last bull run, it was limited to institutional and accredited investors in private transactions requiring a minimum investment of a whopping $25,000. The FINRA approval creates the opportunity for individual investors to now capture the opportunity as well. Grayscale Managing Director Michael Sonnenshein told Bloomberg:
"The secondary market really opens up the opportunity for any and all investors."
Our team continues to bring new opportunities for investors to gain exposure to digital currencies. We're pleased to share that Grayscale Ethereum Trust received FINRA approval for a public quotation on @OTCMarkets under symbol: $ETHE* https://t.co/SQPBI8CjrQ (1/2)

— Grayscale (@GrayscaleInvest) May 23, 2019
FINRA Approval Expands the Net for Retail Investor Adoption
Rayhaneh Sharif-Askary, Grayscale's Head of Sales and Business Development, told CCN:
"We are very excited about receiving FINRA approval for Grayscale Ethereum Trust. As the largest digital currency asset manager, Grayscale continues to bring new opportunities for investors to gain exposure to digital currencies."
It's a boon for an industry that is increasingly gaining the right kind of attention from regulators that has the potential to unlock sidelined capital into the space. Not only that, but it's also a win for Ethereum, the second-biggest cryptocurrency by market cap. It means that retail investors can now gain exposure to ETH in their retirement and brokerage accounts, as Bloomberg points out. It's a sign that cryptocurrencies are increasingly making their way into the mainstream even if it's happening at a snail's pace.
[embedded content] [embedded content]
ETHE Gets Its Value from the Ethereum Price
The value of the Grayscale Ethereum Trust is based on the Ethereum price, the latter of which has seen its value expand by some 80% year-to-date. It will give investors the opportunity to capture some of the gains that ETH has been achieving in 2019 "without the challenges of buying, storing, and safekeeping Ethereum," according to the announcement, which goes on to state:
"As of April 30, 2019, each Share of ETHE represents ownership of 0.09662399 Ethereum. "
In addition to the Ethereum trust, Grayscale's bitcoin and Ethereum Classic trust products are also open to institutional and retail investors. Investors can expect to begin buying and selling ETHE via their "investment accounts in the same manner as they would other unregistered OTC securities" in approximately two weeks.
Like what you read? Give us one like or share it to your friends
original post…