A 'Bit' of a Economic Renaissance in Downtown Las Vegas
Downtown Las Vegas is a stretch of the city that many visitors sidestep in favor of the infamous "Strip." The often heard refrain? Too gritty. Too rowdy. Unsafe. But let's look at how Bitcoin is changing this.
---
East Fremont Street, the major arterial downtown, was decrepit and in a state of disrepair just a few years ago. But it's now in the midst of a major renaissance, having emerged as a robust thoroughfare of pedestrian activity.
And at the epicenter of it all? Bitcoin
A major catalyst behind the economic resurgence of this area was the arrival of the online shoe and clothing retailer Zappos in 2009. Sensing downtown's immense potential, founder and CEO Tony Hsieh proceeded to pump millions into the area.
But an even bigger accelerant for downtown, which was once the Las Vegas strip, is businessman and bitcoin supporter Derek Stevens.
In 2012 he repurposed the downtrodden Fitzgerald Hotel into a swanky casino resort known as the D Hotel. Later the D's sister hotel known as the Golden Gate Hotel & Casino was also renovated. Together these two locales were the first Las Vegas casinos to begin accepting bitcoin.
A Detroit native and co-owner and CEO of both hotels, Stevens is a fun loving guy who loves mingling at the D's Longbar with hotel patrons and guests. It was here, says Stevens, where guests started planting the seed for bitcoin as a payment option for guests and visitors. He notes that a series of these late night conversations is what fueled the fire around this idea. Unable to come up with a reason not to accept bitcoin, he forged forward with a plan.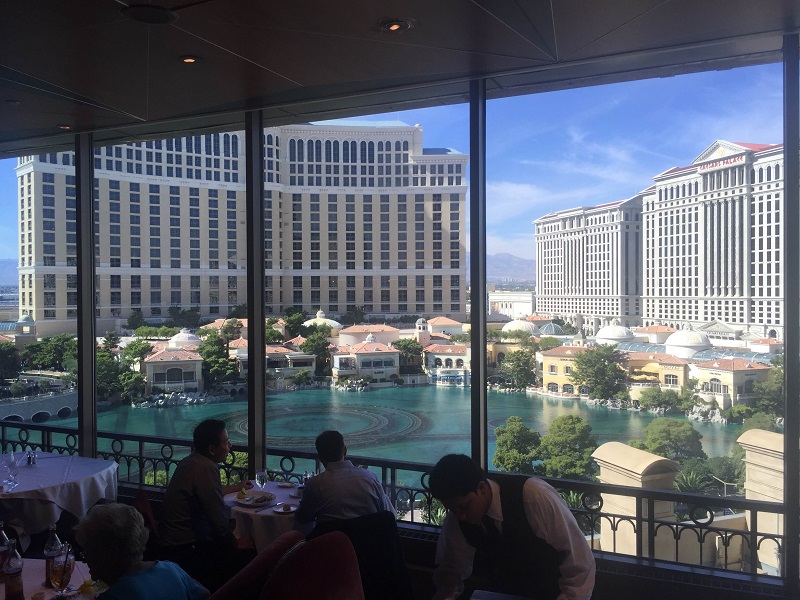 Today, these casino properties have become a magnet for throngs of Bitcoin enthusiasts and visitors seeking to spend their crypto for room stays and gift shop merchandise.
Las Vegas Home to Hundreds of Bitcoin-Friendly Businesses
There is also a luxury steakhouse on the second level of the D that accepts bitcoin. Moreover, bitcoin ATM's – nearly a hundred – are littered throughout each of the properties.
Coinmap, for example, displays hundreds of bitcoin-friendly locations in the vicinity of Vegas.
Despite the fact that Bitcoin is seen in some circles as the next big thing to hit Las Vegas, casinos there may never accept it on the gaming floor due to Nevada industry regulations.
Now Steven's has plans to erect a new resort, Circa, the first in over a decade along Fremont street. Slated to open in 2020 with over 777 rooms, it will feature a snazzy sportsbook venue along with a huge rooftop pool that is already being touted as one of the largest in the world.
With news of this new addition to the downtown Las Vegas scene, the question that's now being bantered around is will Circa, too, accept bitcoin. In Las Vegas parlance, let's just say that it's a pretty good bet it will.
Is a nuetral form of digital money like Bitcoin a perfect fit for a global gambling hub like Las Vegas?
---
Images via Shutterstock, CoinATMradar.com
Like what you read? Give us one like or share it to your friends
original post…
Here's Why Bitcoin, Ethereum and Litecoin is undervalued at Spot Rates
Bitcoin, Ethereum and Litecoin are still incredibly undervalued as present valuations stand. This is on account of the potential of these coins and planned upgrades to make them better according to a crypto trader and enthusiast.
Bitcoin is undervalued at $8,000.

Ethereum is undervalued at $250.

Litecoin is undervalued at $90.

— The Rhythm Trader (@Rhythmtrader) May 22, 2019
Yes, Bitcoin may have rallied back to possible bull territory. However, it is still fair to say that the coin sits below its true and projected position as a currency and security. Bitcoin came about as an alternative currency with decentralization as a catch for investors and enthusiasts alike.
Bitcoin is resilient and has shrugged off legitimacy questions from naysayers time and time again. The price volatility is just a consequence of intense speculation and uncertainty common with new inventions. Nonetheless, Bitcoin's transcendent ability to transform the financial world remains effectively eliminating borders and regulatory overreach.
Bitcoin as Digital Gold
Bitcoin is a finite currency. Notably, every fiat currency will return to its inherent value of zero at times of hyperinflation. This is clear from the Venezuelan Bolivar which is worth less than its printing paper at the moment. In this light Bitcoin can become an alternative to collapsed currencies especially in failed states.
"It's become a trusted alternative when fiat money's value is corrupted by politics"
-John McGinnis and Kyle Roche of Wall Street Journal.
The smallest denomination of Bitcoin, a single satoshi, is now worth more than some national currencies.

0.00000001 BTC is worth more than the:

– Iranian Rial
– Vietnamese Dong
– Indonesian Rupiah

Stack those sats everyone.

— The Rhythm Trader (@Rhythmtrader) May 16, 2019
The limited availability means Bitcoin can efficiently store value at times of financial crises. This is eerily similar to gold which is also a great commodity to store value that rises in value in hard times for fiat. This has led to some proponents calling Bitcoin digital Gold and rightfully so. As such, the value of $8,000 is momentary as the developed world economy is still doing well.
Ethereum And Litecoin As Alternatives
Ethereum is a great alternative for Bitcoin. That said, the price of $270 is still on the low because of the incredible potential given the possibilities of Smart contracts. More significant is the upcoming Serenity or Ethereum 2.0 upgrade. This upgrade will significantly improve the coin by incorporating technical improvements that improve scalability and performance. At the premier Ethereum Supermeetup, hosted at Token2049, Vitalik Buterin explained the update as follows;
"(It is) a way to bring technical improvements, like PoS and sharding, together to improve the Virtual Machine, Merkle Trees, the efficiency of the protocol, and a whole bunch of small technical things that you have never heard of."
Ethereum is in this regard still on the downside price-wise. The upgrades are necessary and timely to keep the protocol efficient.
Litecoin, on the other hand, is essentially a better version of Bitcoin. This is because the coin, while having essentially the same possibilities as Bitcoin, is more adaptable to change such as the introduction of smart contracts.
Why Litecoin
1. 9. 9 % WEG Bank
2. Partnership with UFC
3. Lightning Network
4. K- Pop Concert
5. Mammoth field festival
6. Listed on all major exchanges
7. Never been hacked
8. Halving
9. Venezuela adoption
10. Complements Bitcoin Atomic Swap.
11. Mimble Wimble
12. Lite IM FB pic.twitter.com/FVfILXIuRn

— R H. (@litemeup14) March 6, 2019
Charlie Lee, a former Google employee, who founded Litecoin, has also given financial support to the Lightning Network. There are also possibilities of incorporating Mimble Wimble that will inherently scale the network while introducing better security and privacy for the end user. When we add the halving mix in the equation, investors and traders are convinced that we are in the early stages of a mega bull run that will propel asset prices, valuing them fairly.
Like what you read? Give us one like or share it to your friends
original post…